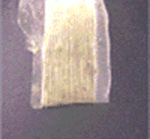 This site presents electrograms, color maps, motility maps, and videos of electrical activities and mechanical behavior recorded and analyzed in several types of smooth muscles, mostly related to the gastrointestinal system.
This work is being performed in the Mapping Laboratory, Department of Physiology, Faculty of Medicine & Health Sciences, Al Ain, United Arab Emirates.
This site does not contain medical information useful to patients
The site Smoothmap.org is linked to:
(= Gastrointestinal Electrical Mapping Suite); repository of videos and maps, from the Bioengineering lab in Auckland, New Zealand.